EXPOSITION
Facility Info . Istanbul Congress Center (Harbiye, Taksim, Istanbul)
There will also be exhibitions organized in the scope of IEEE PES GT&D 2021 Istanbul.
Exhibitions will be reserved for newly developed commercial products relating to the broader field of power generation and renewable energy, transmission and distribution systems. Exhibitions will be held in the exhibition area of Istanbul Congress Center-ICC, which is being the largest exhibition center with a total area of 10 283m2 and located in "Conference Valley" of Istanbul. It will be ensured that each exhibition is given sufficient attention from the conference attendees.
Exhibitor Benefits
- Complimentary exhibitor badges for access to the
Exhibit Hall,
Opening Reception,
Opening Session,
Networking Receptions,
Product Showcases
all inside Exhibit Hall and Closing Reception.
- Product Category listing in the official Final Program and IEEE PES GT&D Istanbul website.
- General exhibit hall lighting, air-conditioning during show days only. (during move-in & preparation days additional charges will incur)
*** Please click here to print and fill out the Exhibitor Form to book your exhibition booth.
Filled forms to be emailed to info@travele22.com
Exhibitor Badge
| Booth Size | Badge Allotment (Based on Booth Size) |
| --- | --- |
| 9 Sq.m. | 3 |
| 18 Sq.m. | 5 |
| 27 Sq.m. | 6 |
| 36 Sq.m. | 7 |
| 54 Sq.m. | 9 |
| Greater than 54 Sq.m. | 12 Badges |
Each badge includes;
participation to daily coffee breaks
light lunch served
Welcome Reception
Extra badges can be purchased at low costs by contacting E22 Meetings Contractor at :
info@travele22com
gurkan@travele22.com
Exhibitor Packages (Raw Space and Standard Booth)
| BOOTH TYPE | SPACE |
| --- | --- |
| Raw Space | Minimum 18 Sq.m. |
| Standard Booth. | Minimum 9 Sq.m. |
Raw Space Package (Minimum 18 Sq.m.) includes:
Exhibition Space only (no electricity, no construction)
Company Profile in Exhibitor Catalogue
Standard Booth Package (Minimum 9 Sq.m.) include:
Fascia - company name (18 characters)
1 Info. counter with lockable cabinet (for 9 sq.m.)
1 Table (for 9 sq.m.)
2 Chairs (for 9 sq.m.)
1 Socket (5 Amp)
Lighting (Fluorescent or Spotlight)
1 Bin / Waste Basket
Company profile in Exhibitor Catalogue (Online and Offline)



Please contact :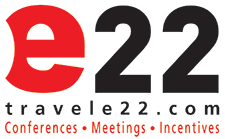 info@travele22.com
gurkan@travele22.com